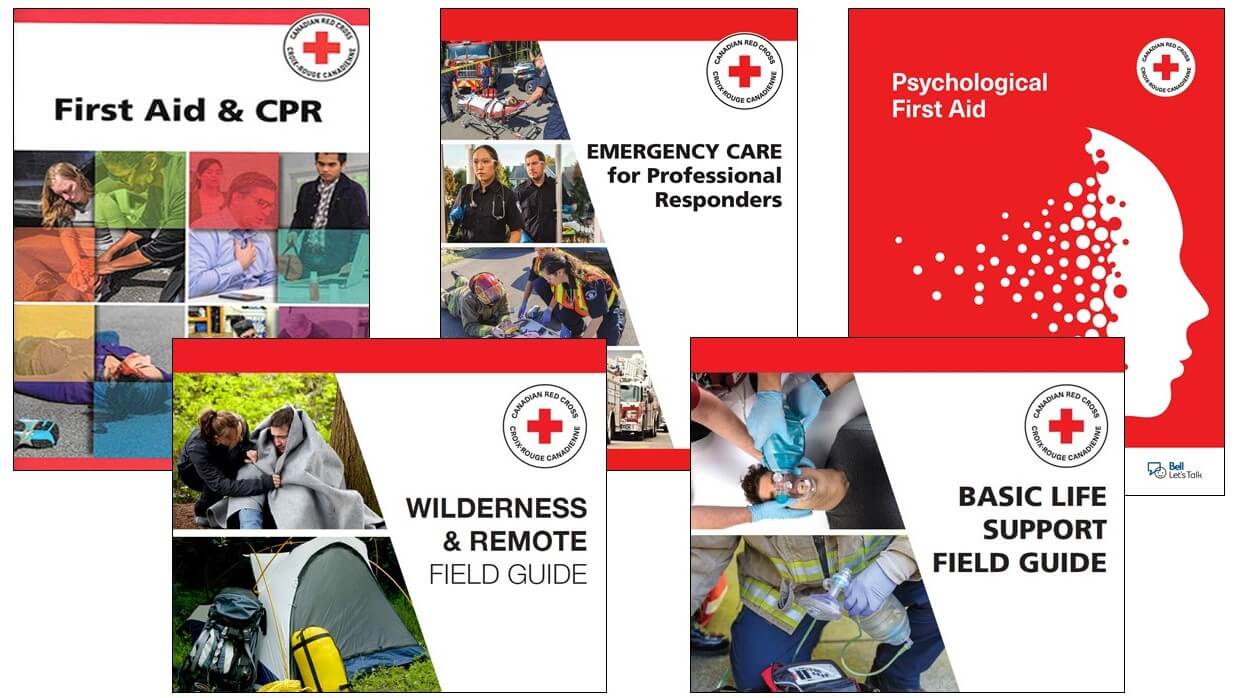 You can access your online "Fundamentals of Instruction - First Aid Programs" e-learning modules through your Canadian Red Cross MyRC Profile.

Instructions:
Sign in to your MyRC profile.
(Click here for instructions on setting up your Profile for the first time, if you haven't done so already)
Sign in
Click "My Profile" ... then "My Online Courses"
or
Click "Tools" ... then "Online Tools"
Click "Activate" next to the online Fundamentals of Instruction - First Aid Programs module
Verify your preferred language
Click "Enter Course"
Complete the online Modules at your own pace
You can close your browser any time, and restart where you left off later
Save your completion Certificate as a PDF file when you are finished
Email completion Certificate to training@frontlinefirstaid.ca
Contact the Canadian Red Cross Contact Center for assistance, if you have technical difficulties

support@redcross.ca
1-866-521-0202 (Mon-Fri 8am-4pm)
1-877-356-3226 (Mon-Thu 4pm-7pm)
Online Modules:
Introduction
Navigation Part I
Navigation Part II
Instructor Pathway
Required Materials
Instructional Tasks

Foundations of Being an Instructor
Introduction & Learning Objective
Program Standards
Standards of Behaviour
Lifelong Learning
Principles of First Aid Education
Your Role
Social Media Guidelines
Instructional Behaviours
Context for Canadian Red Cross First Aid Education
History of the Red Cross
Fundamental Principles
Match the Principle
Principles in Action
How We Help
Volunteering with the Canadian Red Cross

Pre-Course 1
Lesson Planning
Introduction & Learning Objective
Course Plans
Creating Your Course Plan
Correct the Plan
Lesson Plan Components
Same Topic, Different Audience
Using Boulevard
Role of Legislation
Blended Learning vs Traditional Classroom
Connecting Theory with Application
Participant Materials for Blended Learning
Considerations for Recertification Courses
Sort the Plans
Review Your Plans
CRC Support and Resources

Pre-Course 2
Types of Learning
Introduction & Learning Objective
Domains of Learning
Assess the Domains
Learning a First Aid Skill
Skill Demonstrations
Experiential Learning
Applying Experiential Learning

Pre-Course 3
Learning Considerations
Introduction & Learning Objective
Types of Adaptations
Accommodation or Modification
Factors Affecting Learning
Adolescent
Young Adulthood
Middle-Aged Adulthood
Older Adulthood
Participants with Diverse Abilities
Participants Who Require Accommodation When Reading
Participants Who Require Accommodation with Vision or When Physically Moving
Participants Who Require Accommodation with Tasks Involving Hearing
Participants Who Speak English as a Second Language
Multicultural Classrooms
Distracting Habits
How Can You Accommodate?

Pre-Course 4
Preparing Your Classroom
Introduction & Learning Objective
Teaching Aids
Using Technology in the Classroom
Types of Teaching Aids
Organizing Your Teaching Aids

Pre-Course 5
Creating a Safe Learning Environment
Introduction & Learning Objective
Is This a Safe Environment?
Creating a Safe Learning Environment
Classroom Formations
Alternative Classrooms
What to Look For
Special Considerations for Alternative Classrooms
Your Impact

During Course 1
Starting a Course and Maintaining a Safe Learning Environment
Introduction & Learning Objective
Introduce Yourself
Establishing Learning Expectations
Course Expectations
Injury Prevention Culture
Involve and Inspire
Psychological Environment
The Value of a Group Charter
Impact of Language
Use of Appropriate Language
Correct the Phrase
Respect in the Classroom
Sensitive Discussions
Protecting the Physical Environment
Protecting the Psychological Environment
Additional Support

During Course 2
Instructional Techniques Part I
Introduction & Learning Objective
Considerations When Choosing an Instructional Technique
Instructional Techniques Part I
Interactivity
Instructional Techniques II
Instructional Techniques III
Interactivity
If There's Time
Effective Instructional Techniques
Guidance for Including Guest Speakers
Reflecting on Instructional Techniques

During Course 3
Instructional Techniques Part II
Introduction & Learning Objective
A Closer Look at Learning Stations
Types of Practice Sessions
A Closer Look at Practice Sessions
A Safe Practice Session
A Closer Look at Scenarios
The Scenario Timeline
Debriefing Tips
Scenario Activity
Increasing a Scenario's Complexity
Incorporating Improvised Materials

During Course 4
Simulations
Introduction & Learning Objective
Simulation Safety Factors
Simulation Tools
Makeup Safety Prep
Prepping a Role-Player
Basic Simulation Techniques
Other Makeup Techniques
Makeup Removal

During Course 5
Communication
Introduction & Learning Objective
Communication: Test Your Knowledge
Verbal and Nonverbal Communication Strategies
Body Language
Introduction to Feedback
Feedback Activity
Feedback Tips
Active Listening
Perception Checks
Perception Question
Adapting Your Instructional Approach
Changing the Complexity
Reinforce Key Points
Types of Questions
General Strategies for Asking Questions
Reasons to Ask Open-Ended Questions
Open-Ended Questions Activity
Responding to a Participant
Recap on How to Respond

During Course 6
Conflict Resolution
Introduction & Learning Objective
Conflict Definition
Conflict Resolution
Reasons Behind the Behaviour
Navigating Different Behaviours

During Course 7
Assessing and Evaluating and Closing a Course
Introduction & Learning Objective
Objective Evalaution
Assessment and Evaluation
Evidence-Based Practice
Considerations for Blended Learning
Skill Sheet
How to Check Skills
Your Turn to Check
Evaluating Skills Recap
Standards vs Practice
Midpoint Evaluation
End-of-Course Evaluations
Written Knowledge Evaluations
What Would You Do?
Unsuccessful Knowledge Evaluations
Final Evaluation Scenarios
If Participants are Unsuccessful
Documentation
Documentation of Behaviours or Issues
Privacy and Confidentiality
The Importance of Concluding

Post Course
Tasks and Responsiblities
Introduction & Learning Objective
Cleaning and Decontaminating Teaching Aids
Specific Decontamination and Storing
Sharing Equipment
Administrative Paperwork
Ask the Expert
Reflecting on Instructional Practice
Types of Reflection Questions
Instructor Certification: Next Steps
Instructor Certification Maintenance and Growth
Canadian Red Cross Programs and Services
Congratulations!